Bishop Services, Inc. maintains a fleet of custom designed remote location shower units. We offer many sizes of mobile showers to accommodate all of your personal hygiene needs. Here are some descriptions of our shower units. Our 12 place units contain twelve individual stalls (eight men and four women), while our 7 place units are scaled down to seven (four men and three women). These individual stalls provide the privacy and personal space that is unavailable in gang-type facilities. The layout of the units allows for optimum traffic flow and customer satisfaction. Our company has incorporated into each unit's design, a self-balancing Delta faucet with an anti-scald valve system. Not only can our clients adjust the water temperature according to his/her comfort, but are also protected against scalding and/or water surges.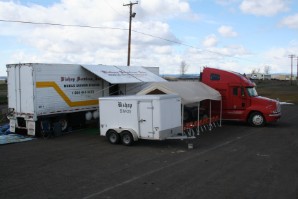 The women's showering/dressing area is located in the front portion of the trailer. Along with the individual showering stalls, the dressing room contains stools and a vanity table with mirrors. The convenient electrical outlets supplied at each station allows for the use of hair dryers and curling irons. The area also boasts ample space and clothing hooks to satisfy accompanying gear. Each shower stall is equipped with a shampoo shelf and a liquid body soap dispenser with soap. Also included are lockable lockers for safe keeping of personal belongings.

The men's showering/dressing area is located in the rear portion of the trailer. The dressing area has two doors, the main entrance located at the middle of the trailer and an optional entrance at the rear. A bench runs the length of the shower stalls and provides lockable lockers for safe keeping of personal belongings.

Eight (8) outdoor sinks are located at the middle entrance into the shower trailer. The sinks are plumbed with both hot and cold water. Liquid soap and paper towels are provided for clients convenience. The attached mirrors provide additional space for brushing teeth, shaving and other personal hygiene practices.

This facilitates the flow of the unit by moving people from the showering area to the outdoor sinks to complete their grooming, thus opening up available space inside for others to shower. The diesel powered generators provide enough power for the functioning of the unit and ample outdoor lighting.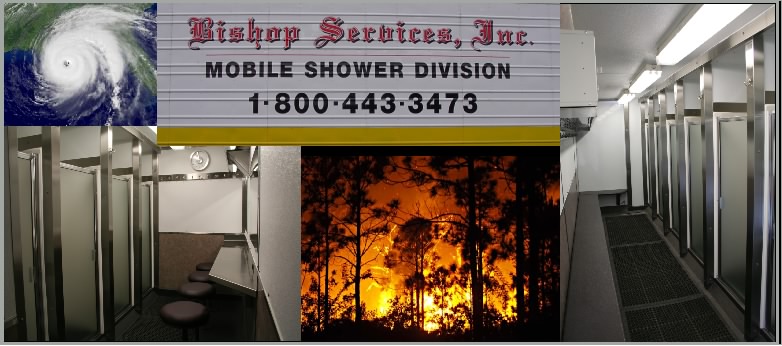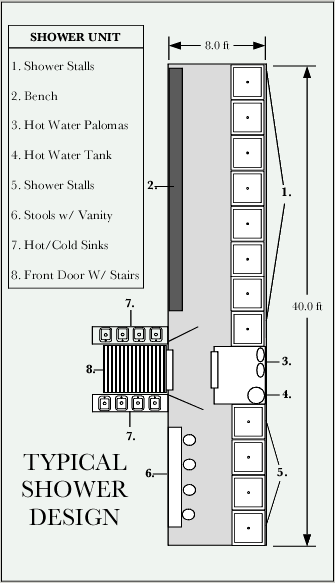 Links provided below you can download and view the blueprints for standard small and large units equipment layouts.